---
(clicking on pictures will take you places)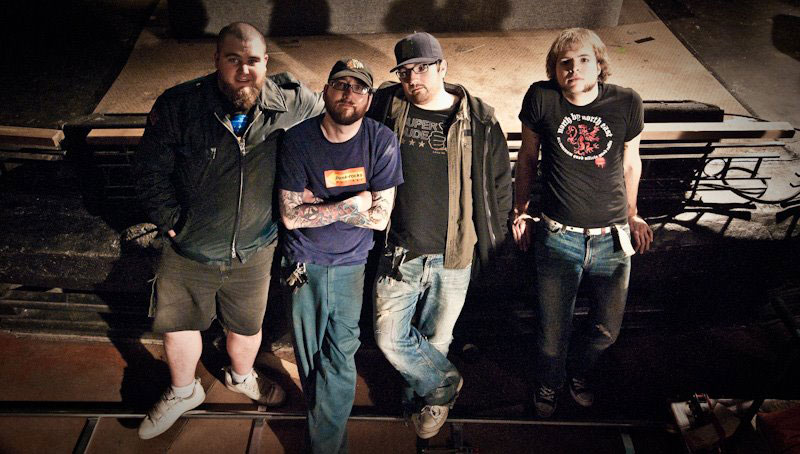 The Motorleague is the anthem to every bad break-up or shitty boss you've ever had. Crafting songs that have been called "The Anthems Of The Call Center Generation", this band has been running on all cylinders since inception.

The music is fast or often faster - based on stoner rock riffs played at a higher RPM and choruses that are catchy as sin - but won't leave you feeling guility for liking it.

Their appeal lies not in business plans, hair styles, fancy myspace graphics, or major label marketing, but in the simple belief that honest rock and roll music speaks for itself - and that DIY only works if you actually do the work.

The Motorleague released Black Noise in May of 2009 through The Forward Music Group. The debut was produced by Ian Blurton (C'mon, The Weakerthans) and has received much critical acclaim. The first video has been shot and will be released in the Fall.

Throughout numerous adversities and lineup changes, the band has continued to tour heavily and proven that a Canadian East Coast rock band does not need to be a self fulfilling prophecy.
Leah Erbe is a singer/songwriter in downtown Toronto, who writes pop tunes that are catchy and short and sometimes funny. You should be prepared for songs about: professional wrestlers and the women who love them; the thin line between love and a restraining order; destruction of personal property; faux-psychic scam artists; violent death; and a repeating theme of indignant self-assertion, usually too late for confrontation (see album title below).

L'Esprit D'Escalier means, literally, "the wit of the staircase." It's meant to describe the moment when you suddenly think of the perfect witty comeback or snappy one-liner - just after you leave the room. The 5-track EP was produced by Haydain Neale, a sorely missed friend and teacher.

SMUGSHOT is the fully banded version of Leah Erbe's music live and Between Worlds Entertainment will be helping with the band as they develop.
Michelle Harding has a nostalgia about her, except you've only just met her.

Michelle Harding is long drives in the sun with roof down. She is your best friend when you need someone fighting in your corner, and she is the sunlight on your face when you have a chance to sleep in. Born and raised in Toronto, Canada, Michelle moved from the north down to L.A. and she seems to have absorbed the sunshine of California into her soul. You can hear it in every note she sings.

I suspect it was the time she spent studying drama in New York that lent her that unexpected, pleasant way of surprising you, just when you're sure you've got her all figured out. That few could gain, unless they've lived in a city of sound.

2009 is looking good for this hot new artist as she hooks up with us at Between Worlds Entertainment for the release of her debut album.
Between Worlds Entertainment has, in the past,been involved in the management of these artists:
The 3Tards, Downsview and Amy Lee Owens
A number of projects are in the works with musicians from around the world, and we'll give you an update as soon as we can!
Please Note: While we have been involved in managing a number of bands and individuals, we are currently not accepting any new artists at the moment